Managed Services Provider (MSP) Program Information
for State of Ohio Subcontractors
Please feel free to bookmark this page for future announcements and updates.
The State of Ohio has selected Knowledge Services as its Managed Service Provider (MSP) for IT Staff Augmentation Services. The Knowledge Services MSP Program is referred to as 'OHMSP' and delivers solutions to help manage sourcing, tracking, reporting and invoicing of IT Staff Augmentation Services.
As part of our MSP solution, Knowledge Services utilizes the dotStaff™ system to optimize and manage the staff augmentation process. Through this platform, open competition assures subcontractor equality and fair access to business opportunities.
Program Links
The below link provides supporting materials for recruiters and finance staff at the State. It contains a subcontractors overview guide, finance guide and schedule interview guide. In addition, you will find an instructional video on timesheet entry:
SUPPLIER dotStaff PRODUCT GUIDES
Below is another link you may provide to your contractors once they are selected for an IT staff augmentation project. It contains a Contractor Get Started Guide with instructions on activating their account, timesheet entry and editing, as well as a timesheet entry video:
RESOURCE dotStaff PRODUCT GUIDES
Additional Program Documents
Agency Bid and Onboarding Requirements
Onboarding Forms for New Hires
All forms to be completed by the contractor and the vendor.  The forms should then be uploaded into the contractor's profile in dotStaff following the below steps:  
Log into DotStaff  > Click on Records Mgt. > View Users

Search for User > Double Click on user > Click Professional tab

Click Edit > Scroll down to attachments > Click the

Green + 

sign.

Click Browse to find document on computer > Select document > Click Upload > Click save

SOOH MSP Process
The Knowledge Services Program Team is responsible for managing the entire staff augmentation process.  Below is an overview of the full service requisition workflow: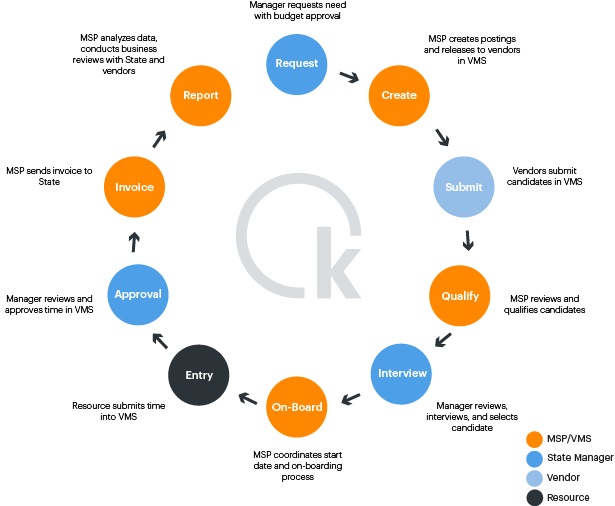 Benefits
Benefits to Vendors include:
Local, experienced Program Team providing single point of contact
Greater quantity of opportunities with clearly outlined requirements
Ability to maintain and cultivate new relationships with managers and agencies
Cash flow visibility, providing access to payment statuses
Business intelligence & reporting
Web-based requisition workflow for candidate submission, time entry, time approval & invoicing
August 2019 Vendor Roundtable
Once a year, the State of Ohio MSP hosts a vendor roundtable.   The data provided in the link below was presented to the vendors during the August 2019 meeting.
Public Records Request
Please use the link provided below to learn from the State of Ohio how to submit a public records request:
How to make a Public Records Request
Program Team Contact Information
Knowledge Services' Ohio MSP Program Team is your dedicated, local point of contact. You may contact them with any questions at OHMSP@KnowledgeServices.com.